The Fly For Good Team in Nepal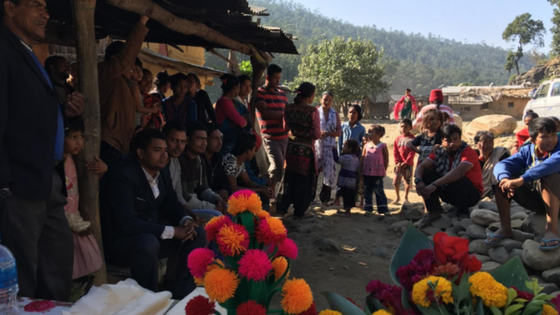 See the World. Change the World
At Fly For Good we are part of family of companies who help people see the world through travel and change the world through a shared social mission. In everything we do, we strive to make our products, services and team culture revolve around this goal.
This past November a team of staff from Fly For Good and our sister companies traveled to Nepal to visit an organization close to our hearts. One of our team members, Greg, shared with his thoughts with our team.
What impact did this have on you?
Greg: What made the biggest impact upon me from my trip to Nepal was seeing firsthand the difference that we can make. Our small team visited a village where members of the Badi tribe live. The Badi tribe are considered "untouchable" in the Nepali caste system. Though discrimination against other castes was made illegal in 1962, the caste tradition is still deeply embedded in their culture.
The Badi village was located on a rock wasteland by a river where the people survive by pulling rocks and sand out of the river for use in road construction. Wages are pitiful and very few of the people have ever been to school.
Against this backdrop of poverty and lack of education or opportunity, parents or relatives of a young girl occasionally sell her to a brothel recruiter. Other times parents are duped by the recruiter into thinking their daughter is going to get household work in another city. In either case, the girl gets trafficked to a brothel in India. I will choose not to describe the horrors of what happens there.
What is Fly For Good's role in combating this?
Greg: Fly For Good currently helps support 600 girls who were identified as at risk of being trafficked by rescue workers who network in the Badi villages. These girls now live in one of nine comfortable group homes in Kathmandu. The girls are welcomed into the house family and are taught that they have value and potential. They receive a free education in a public school nearby. The atmosphere in the homes is bright and cheery and the girls are constantly affirmed that they can achieve great things. We visited a half dozen homes and the kids were so happy and lively. They wanted to sing and dance for us and then insisted that we join them, and so we did… much to the amusement of all!
The contrast between subsistence living in the village as opposed to the boundless opportunities offered in the homes really captured my heart. To empower these group homes with funds is a small sacrifice that goes a long way. I left Nepal convinced that it is possible to make a difference in the lives of these girls. We have the power to help financially, and there are wonderful people on the ground in Nepal who are rolling up their sleeves to do the truly hard work. I had dinner with one of them at a farewell party on our last night in Kathmandu. His name is Sameer. He is a house leader.
Sameer, along with his wife and two kids live in and manage a home for 99 girls ranging from about 6 to 17 years of age. You can be sure there are long days and nights when you are 'dad' to 101 kids!
I asked him what the most difficult part of his job is and he said, "The girls get sick a lot. I am taking one to the doctor on my motorbike every other day." I then asked, "What if she is really sick?" He said, "I get someone to ride behind to hold her on (he has a small 125 cc motorcycle)." I envisioned this as being pretty tight, and so I had to ask, "What if she is vomiting?" Sameer pointed to the back of his shoulder and grinned, "It all goes right there."
Sameer is just one of the many everyday heroes supported by Fly For Good and our sister companies. When you purchase through Fly For Good, you are not only making an investment into the nations and organizations you serve as you travel. A portion of every ticket purchased through Fly For Good goes towards this incredible project in Nepal.